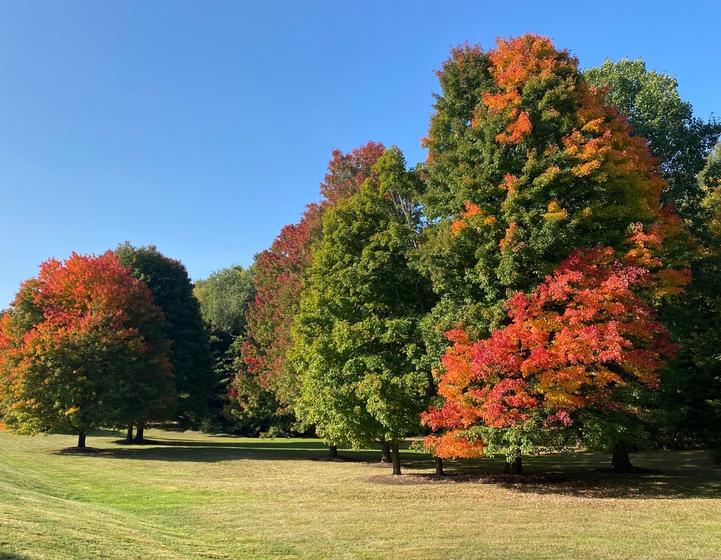 Time to Read: ~5 min
After taking a week off after my 13-week Memorial Day to Labor Day sprint, my body was calling for me to do something new. Without a race on the horizon due to the pandemic, I figured I'd jump into a plan and see what materialized. I've used the Run Less, Run Faster half marathon plans before, so when I calculated out where a 16-week plan would land, it put me squarely at the end of Christmas week. So, I plan to give myself an awesome gift at the end of the plan: a (hopefully) fast half marathon on a homemade course of my choosing!
I'm going to keep track of my workouts week-by-week below. There are three hard runs per week (that's the "run less" part of this plan). It'll be a fun way to look back and see how I was feeling during this tough, yet effective, plan. I'm not going to log my 4x weekly rowing sessions, or walks and hikes. I will log things that get my heart rate going or really put a stress on my muscles.
So far, I've run 66.44 miles over 8:04 (hh:mm) in pursuit of this goal.
Week 1
Group Ride to Sheldrake

Labor Day. Amy and I joined a group ride from the Farmer's Market, heading to Sheldrake and back on country roads. We were rushed getting there after a failed attempt to lunch at Viva (they were closed), so I wolfed a slice of pizza as we rode to meet the group.

32.31 mi
2:22

Track Repeats

12 x 400 w/ 90s RI. First day of the 16-week plan. Happily headed to the HS track, but stymied by the group of girls walking around it. Obviously, some kind of team practice was messing with my plan. Still, heading to the streets for these repeats got the job done. This felt really tough, but doable.

6.62 mi
0:53

BodyPump 113 Express

Tough release with impossible choreography for the lunge track.

0:41

Tempo Run

2 mi easy, 3 mi @ ST (6:21 goal), 1 mi easy. Hit 6:18, 6:28 and 6:11 for the fast miles. Yeah!

6.04 mi
0:43

BodyCombat

Release #76 has some really great combinations in it! I listed the releases I've done before so I won't be repeating anytime soon. There's a ton of 'em on demand.

0:52

Long Run

Long run day called for 7-minute miles. It was nice and cool out in the morning, so I hit the pace a little hard in the beginning and just held on! Ended up with a 6:45 overall with pretty even splits.

8.04 mi
0:54

Choose Your Own Adventure

Calves felt really tight after this week's runs, so I really looked forward to getting this bike ride done for therapeutic reasons. It was a nice stretch of the legs and nice cool temperatures for a ride.

15.35 mi
0:57

BodyPump with Chantelle

I love the mixes that Chantelle puts together. Virtual with a live instructor is bested only by the energy of a live class!

0:55
Week 1 Recap: It was a delightful week of fitness, but carried with it the stresses and preparation for back-to-school. Soon we'll be into our new-new-normal as our routines adjust, yet again. I'm feeling good physically, though, so bring on Week 2.
Week 2
Track Repeats

400, 600, 800, 1200, 800, 600, 400. I guess it's not hard to have the track to yourself when you get there early and the morning temperatures are hovering around 40°. This was really challenging (oof, that 1200), yet fun! Managed to keep within the goal of each segment by under 10 seconds, so #winning in my book.

7.55 mi
0:55

BodyPump 104 Express

This was hands-down the shittiest day of work I've had in a while. Not a lot to show for my efforts, and evening motivation was waning. But ... Amy and I spurred each other on to at least do a half-hour edition of our fav BodyPump release.

0:25

Tempo Run

5 miles of tempo with target pace of 6:36. Hit 6:30, 6:30, 6:30, 6:26, 6:27. Yesterday's stresses evaporated after this, and I enjoyed listening to the soundtrack to The Greatest Showman.

7.04 mi
0:48

BodyCombat 77

This was a really great session that dovetailed nicely into my early afternoon. I made a list of the Combat classes I've taken so far on Les Mills on Demand so I won't repeat myself.5 more uniques to go!

0:46

Long Run

Crisp. Sunny. Beautiful. And no GPS data because (of course) my Apple Watch got messed up after Apple's latest update. I fixed it later in the day by re-pairing it with my phone, but missed out on capturing my route nonetheless. All 9 miles sub-7, per plan, out-and-back on Congress and then out-and-back on Rabbit.

9.05 mi
1:01

Sunday Ride with Art

Enjoyed this ride with Art! Man, Perry City is a sweet westbound stretch. Had a great workout with great conversation!

24.51 mi
1:26

BodyPump 109 Express

After this morning's ride and this afternoon's yard work, I was not feeling up to this. It's just 45 minutes, though ... how bad can it be? Well, the Express releases pack a punch, so I got punched. Happy tomorrow's a rest day!

0:46
Week 2 Recap: I thought the repeats were the least enjoyable workout of the week. I phrase it that way because I actually enjoyed all of the running workouts. Perhaps that's a side benefit of a plan that has fewer weekly miles? I also appreciate all the cross training I am getting in. Now that the week is closing down, I do feel that my body is calling for a rest day. Oh, look, that's on the plan for tomorrow!
Week 3
Track Repeats

6x800 with 90s RI. The fairgrounds track is a half-mile, so this was perfect on this chilly morning!

6 mi
0:45

BodyCombat 74

Planning on Friday night BodyPump at the FLX Annex, so traded BodyCombat into this Wednesday slot. There's nothing nicer than Combat on the deck!

0:50

Taughannock Tempo

There are always some GPS anomalies in the park, but the weather was too good to pass up some speed on the base trail. Tempo miles called for 6:21, and I hit 6:41, 6:20, and 6:26. Considering the variable terrain and the marina stairs, I'm pretty happy with this!

6.08 mi
0:45

FLX Fitclub BodyPump with Chantelle

Friday night BodyPump was one of our pre-pandemic staples. When Chantelle offered an outdoor edition in that time slot, we jumped right on it. Front row, all smiles, sun at our backs ... it was a great workout!

0:59

Long Run (Leaf Peeping)

A run with no pace goal means leaf peeping! Beautiful trees and a pause to say hello to The Bialke family's horses.

10.02 mi
1:20

Sheldrake Ride with Art and Herman

Art invited me out for a long ride on one of the last warm days we may have. Temperatures turn cooler early this week, so it was nice to get out for this ride and meet Herman, too!

34.11 mi
2:18
Week 3 Recap: I really felt tired after today's ride. So much so that I took a nap! I know I didn't hydrate enough on the ride, and didn't take any nutrition during, either. So, not smart. The running this week has me ready for more, though, so am looking forward to an early start tomorrow. Will do my repeats on Monday due to Tuesday's forecasted rain!