First off, I write a weekly newsletter at wanderfull.substack.com. It's all about remote work, drawing daily, and other observations about living in this modern world. Do yourself a favor and subscribe!
Handbook for the Modern Worker (365 Daily Tips)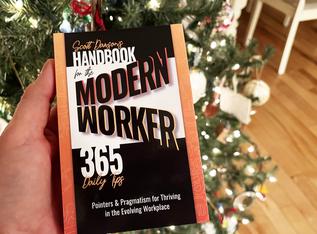 I wrote a tip for "distributed workers" every day in 2021. By the end of the year, I realized I had created something rather special, and decided to publish it in the form of a handbook.
Read more about the project.
The Art of Working Remotely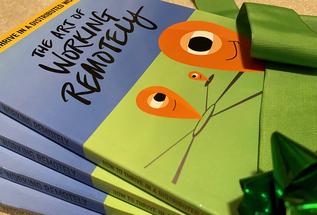 The Art of Working Remotely is about my experience working from home since 1998. That's 25 years of remote work! I published it on July 25, 2019, and it's had a fantastic reception in the remote work community.
Read more about the project.
Undo
I finished writing my debut fiction novel, Undo, in September 2021. It's currently with beta readers and I cannot wait to bring it to a wider audience!
Read more about the project.
#365DayDraw
My #365DayDraw project had a writing component. Each month, I wrote a story to accompany the winning drawing, as chosen on social media. The collection of twelve stories was improvised over a year, informed by my sketches.
Other Writing
I also enjoy writing posts on this website. My wife and I get up early each morning and spend at least a half hour doing creative things. That's my prime time for writing. It's a quiet, peaceful, and caffeine-fueled time: perfect ingredients for a good story. Here are selected posts from this site. Not surprisingly, mostly about running!