Me, in introductory bullet form: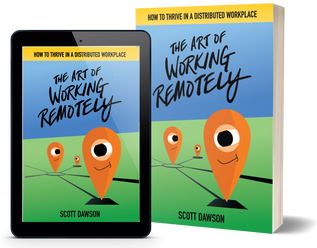 The Art of Working Remotely
Most Recent Posts
December 31, 2021

Instead of toeing the line at a series of trail and road races, the Finger Lakes Runners Club put on the FLRC Challenge. The asynchronous challenge sent runners to 10 area courses, split evenly between road and trail, with distances from 1 mile to the half marathon.

December 12, 2021

We've been making homemade ornaments for our family since we were married.

December 11, 2021

I'm happy to announce that my newest book, Handbook for the Modern Worker (365 Daily Tips), will be available for purchase on December 12, 2021. It was literally a year in the making, and I'm so proud of how it turned out!
If were were stuck in an elevator for more than a few minutes, I'd also share these featured posts with you to pass the time.
Want to know more? How about a coffee, virtual or IRL? Contact me.