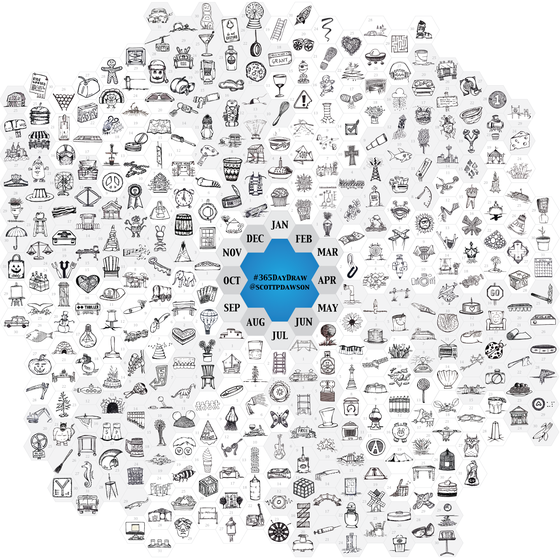 Time to Read: ~3 min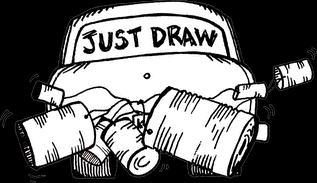 With a stroke of my flair pen this morning, it was done. I called the project #365DayDraw, but since 2016 was a leap year, I churned out 366 days of drawings. When I first started this project, I didn't know how it would turn out, or what I'd learn. It turned out great, and I learned a ton.
Along the way, I discovered I was playing by some implicit rules, and learned some very poignant things.
Consistency of materials. I started on some small pads that I had laying around, and graduated to Moleskine pocket notebooks (I filled three of 'em). I always used Paper Mate Flair Felt Tip Pens (Medium).
No revisions. No pencil. Just a flair pen and the paper. With a few exceptions (I remember two), the final drawing was the first drawing. I trashed a few pages since it started off SO awful, but I really thought about what I'd draw most times, and if it didn't start off well, I tried to EVOLVE it 'til it finished well. Sometimes that resulting in some interesting abstractions.
No judgment. I wasn't trying for a masterpiece each time. The lack of pressure helped my creative process. I always found it interested each month when I had people vote: the one they chose was typically not the one I would have chosen. Art is subjective, and this voting process reinforced that for me.
The magic of storytelling. The monthly story was pure improv, and quite magical. Each month's winner, once I had done the vectorized color version, inspired a story with a common thread. When I sat down on Medium to write, I hadn't done anything but refresh my memory of what I'd written in prior months. I don't know what it says about me that my storyline evolved into one where a woman who was very lonely and hurt ended up finding happiness through adoption (I'm not lonely, or hurt, or a woman, and I have two wonderful children), but there you have it. When I'm improv acting, it always surprises me when I can "jump into" someone else's mind and "be them" for a moment. It brings happiness, sadness, and perhaps a sliver of understanding. It's magical. You can read all of the stories on the original #365DayDraw page.
With rare exceptions, I remember the circumstances around each drawing: where I was, what I was thinking, and if the accompanying quote on twitter preceded or was inspired by the drawing. My commentary on my drawings were sometimes trite, sometimes humorous, and sometimes deep. As I went through each month, I realized that the project was less about the art and more about inspiring conversation. I enjoyed engaging with different people about the drawings, and also the chance to share my work in person with whoever I thought would enjoy a particular day's subject matter.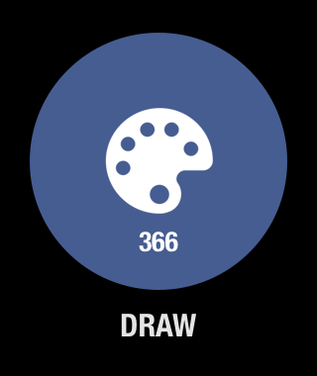 I have to hand it to the Streaks app for iPhone, an Apple Design Award winner in 2016. The app helped me keep focused on my daily goal, along with doing preventative physical therapy for running, having a good flossing habit, daily pushups and practicing my guitar. I got great satisfaction in "checking off" these items daily. If you want to form a habit, it's a super simple app and I highly recommend it.
Thank you for following along.
Art Shows
My #365DayDraw project exhibited at Gimme Coffee in Trumansburg during the month of June 2019.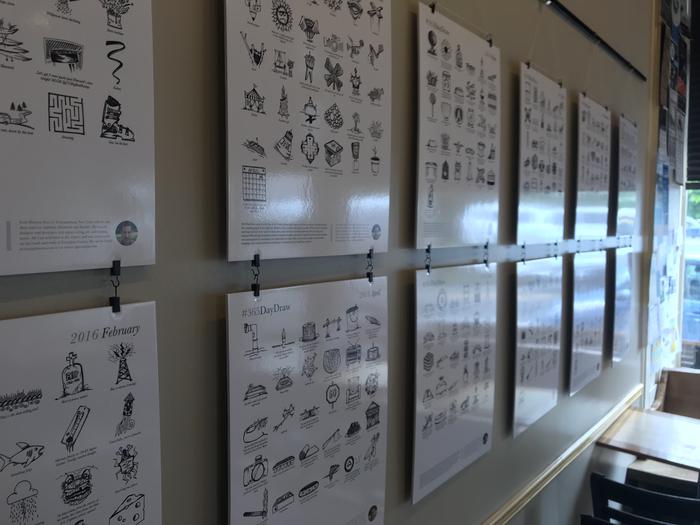 #365DayDraw at Gimme Coffee in Trumansburg